Monthly Archives:
September 2012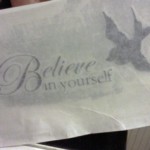 First Cut with a Cameo Silhouette
When you first get your new Cameo Silhouette you'll get started by setting it up and installing the software on your PC or laptop. It's fairly easy to set up the cutter and install the software as the instructions are straights forward but if you have trouble you can watch this video and it will help you get started.
I bought the Silhouette Cameo Deluxe Bundle so I would have plenty of vinyl to get started with. I wanted to start with something small thinking this would be a good idea but actually I chose some pretty small text so my first 5 tries cutting out the text was a bit harder than expected. I didn't read the instructions as clearly as I should have because I was too excited and just wanted to get started so it took me learning the different setting by trial and error. Since the lettering I choose was a more delicate font and the project was only about 2 ½ inches total I got somewhat frustrated. There was a couple times after the first 3 tries when I thought maybe my brand new Silhouette Cameo was actually broke because I thought it was not cutting correctly.
All in all I realized it was my own fault for rushing into using it and not understanding the different blade settings based on the material I was cutting and the tiny lines I wanted it to cut the font into. Once I finally got the settings right and learned to be very patient when weeding I was pretty proud of my first new little vinyl project. I chose the free images that you get from the Cameo Silhouette and ended up combining them together onto my transfer tape. Mostly because it was easy to get the bird to cut and some out nicely but the font was the tricky part so
I did end up doing a bit of piecing together. You can see the results though and I really like the way it turned out.
I wanted to have a nice small affirmation image that I placed on my bathroom mirror so when I am getting ready in the mornings or evenings I can be reminded to "Believe In Myself". I think this is a great ending to this first story about my new Silhouette Cameo because if I can use it and create something then anyone can! Just believe in yourself and let your creativity be your inspiration.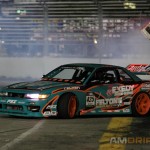 Formula Drift Evergreen
The moment of truth is upon you, all four of the starting line lights drop. It's now time to show the world what you've got. The motor screams as you run through four gears to get as much speed before the corner as you can. Reaching 90mph you toss the car into the corner aiming for the top lane of the infamous Evergreen Speedway bank. Line set, it's time to lay into the throttle and smoke some Falkens up! Towards the end of the bank your eyes catch the narrow path through the infield known as the "Power Alley". As you let the steering wheel loosen between your fingers, you throw as much angle as the car can get to scrub a few miles per hour off before making your approach into the Power Alley. Grabbing the wheel tight and giving it a strong flick throws you in the other direction, simultaneously timed you drop a gear and downshift to 3rd. Back on the throttle along the Infield wall, you aim for the next inner clipping point as your front bumper just grazes it. A hard toss of the steering wheel and a quick stab of the brakes rotate the car the perfect amount. Laying back into the throttle you hear that familiar sound of your rear bumper sliding along the wall, with the hammer down you bounce off the rev limiter until you cross the finish line.Although that sounds relativity easy on paper it is not quite that simple to do. On my first qualifying run I had to grab the e-brake to make a line correction coming into the power alley slowing me down 3mph below the qualifying minimum. I also had missed the inner clipping point by a few feet. Scoring a 42.00 on that run I knew that was not going to get me into the show, I had to do a 110% run on the next one. I sat in my car just focusing my mind on visualizing the next run perfectly. As my second run started I threw the car much harder into the bank this time, however it was just a little too much I felt the car start to over rotate. Knowing better than to lift off the throttle and put my car off into the wall, I kept it pinned. I was either going stick it or I was going to spin down the bank. Unfortunately it spun down the bank.
I don't think I would have done anything differently that weekend, as the car ran awesome, handled even better, and my focus was on point this weekend. If you are not making mistakes you are not pushing yourself hard enough. This weekend I can honestly say I pushed hard and made a few mistakes. Always learning, always wanting to do better I have an awesome feeling about Las Vegas! I can't stop and I won't stop!
I wrote this right after Formula Drift Seattle, with July and August being some of the busiest months in the RGR office and garage, it had slipped my mind. When I wrote this I could not have imagined just how correct I was going to be about my "awesome feeling" for Las Vegas! Let me tell you about it!
The weekend started off just great. While loading the car on the trailer I did a inspection on the trailer, I found that one of the four trailer bearings was loose. Pulling the wheel and brake rotor off, you could see the discoloration of the bearing as it had come loose and heated up. I changed the trailer bearing out and we were ready to hit the happy highway! This trip the crew was very minimal; I had Richard Gallagher, my uncle and hauler of the car, Laura Gallagher my sister and team manager, and Lucas Perez my good friend and team spotter.
We cruised right down with no problems and got into Las Vegas around 3pm. Just enough time to eat at Sonic Drive In. I studied the new Las Vegas course from the stands as Thursday practice began. With a perfect run replaying in my mind, I found it hard to get sleep that Thursday night. However, when I woke up on Friday morning I knew exactly what I needed to do in qualifying. With a few runs on the new course in Fridays practice under my belt it was time for qualifying!

After my first run, I got a score of 51 points. As I lined back up in grid, FD Seattle started to replay in mind. Then the trip to FD Long Beach, both of them ended with heartache. With all these setbacks filling my mind I neared my second run. Instead of letting these get me down I flipped it and used it as fuel for the fire. Bound and determined to not have another disappointment, I went back to replaying my perfect run in my mind while listening to music.
Having my mind clear I was ready for my second run.
I heard my sister come across my radio shouting ecstatically "79.5!!"  I left nothing on the table with my second run. I lit up all of the proximity sensors along the two outer clipping zones on the wall. I actually removed my rear bumper and wing by scraping them along the wall. The judges ended up giving me the 33 out of a possible 33 style points for that run. I waited anxiously for the rest of qualifying to be over so I could go to the drivers meeting to see where the cards had landed. I had qualified 18th! In qualifying I was .5 points less than the 2011 Formula Drift Champion Dai Yoshihara, and 10 points less than the number one qualifier Fredric Aasbo. I could not have been happier at this point. As the Top 32 grids were passed out, I found out that I would be facing Chris Ward; a fellow privateer, and BC Racing Team member. We headed for the hotel we stuffed ourselves with some more Sonic and went to bed. Similar to the previous nights I found myself tossing and turning, not being able to turn my excited mind off. I could not wait for Saturday!
We got to the track on Saturday and got our pit set back up again. As we got there Jason and Brian from Portland Speed Industries came over and inspected the car, put a brand new set of spark plugs in and remounted the wing on the car. Before I headed for Top 32 practice I had the chance to chat with Chris. He is running a Chevy LS series V-8 in his car. Which has  twice the number of cylinders than me. I knew this was going to be a good fight.
Chris qualified 15th so he was set to lead first. We both threw our cars at the same time coming into corner one. Chris transferred into corner two a little early and came up shallow on his line, away from the wall. I was able to keep my front bumper to his rear bumper for most of his lead run. Now it was my turn to lead. I came in fast to turn one, and did not look back. I lit up the first proximity sensor along the wall and barley missed the second. By the time I had crossed the finish line I looked back and had seen that Chris was about two car lengths behind me. The judges announced that I had advanced into the Top16! I was going crazy inside the car!
As Top 32 played out, it looked like I would be facing Rhys Millen in top 16. Rhys is a very seasoned and impressive driver. He has been in Formula Drift since its start, set multiple Pikes Peak Hill Climb records, and even back flipped a truck! I knew I had to drive like I never have before. Rhys having qualifying 2nd meant that he would be the lead car on the first run. His car having almost double my 440hp stood a strong chance of taking off on me down the stretch into corner one. However being the stand up guy that he is, he paced me into the first corner giving me a fighting chance. I was running flat out behind him, as he came from turn one into turn two he had made a small correction, he had to grab his e-brake to adjust his line deeper. I was surging up on him at this point because I was already wide along the wall behind him with my throttle to the floor. I had maintained proximity to his car until the very last corner where he let loose of his 700+ hp. My strategy for my lead run was simple, run 120%. I ran almost the exact same run as my qualifying run but much faster and I did not remove any car parts. As I was coming off the wall and into turn three I had ran wide and got into the layer of tire dust on the outside edge of the track. I laid into it hard and came into turn four with too much speed and over rotated the car sealing my fate for the weekend. Rhys Millen went on to take 1st place at Formula Drift Las Vegas this year.
All in all Las Vegas weekend is one I will always remember for the rest of my life. I cannot thank you enough for helping me get there. It would not be at all possible without your help and involvement in the RGR program. Thank you so much!
Be sure to catch the coverage of this event on the NBC Sports channel on 11/4 at 5pm, and again on 11/6 at 5:30pm!
—
Roland Gallagher
Owner/Driver
ROLAND GALLAGHER RACING LLC.
425-417-8689
RGR MEDIA: www.rolandgallagherracing.com/media/
RGR WEBSITE: www.rolandgallagherracing.com