Tag Archives:
heat press prices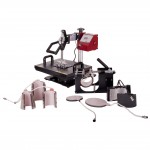 Heat Presses: An Introduction
Learn what a heat press is and how they can be used to create unique personalized items. From garment decoration to creating custom gifts and advertising items, there is no limit to what can be created with the use of heat presses. Heat press equipment is often used in conjunction with a vinyl cutter,or a sublimation printer. But with so many choices available, it can be a bit overwhelming to choose one when just starting out. Hopefully this guide and the accompanying video will help educate you.
What is a heat press and how do they work?
A heat press is basically a machine containing an electronically heated metal surface, called a platen. A heat press functions similarly to an iron you would use to press clothing. The difference is the combination of pressure, a large heating surface and precise temperature control. This ensures even heating of the materials being pressed, and yields consistent results. The platen is lowered down onto the surface to be imprinted, and locked down for a predetermined length of time, according to the materials being used . Heat presses also feature a timer that will allow the user to control exactly how long and at what temperature the item will be pressed at.

Heat presses come in a variety of styles; the 'clamshell heat press', which opens vertically, allowing access to the item under the platen. The other main type of heat press is called a 'swing-away' press. These machines allow the platen to swing to the side and out of the way, allowing for greater access to the material to be imprinted and more precise placement of graphics. This type of heat press requires more room around the sides of the press to allow for the swinging of the platen.
There are also several specialty versions of heat presses available.
Mug presses feature a platen that wraps AROUND the surface of a coffee mug, creating wrap around graphics.
Cap presses have a small contoured platen designed to line up perfectly with the front area of a baseball or trucker cap.
Some heat presses, such as the Geo Knight DC-16 'Digital Knight', have quickly interchangeable platens that will allow the user to imprint a wide variety of different sized items.
Why are there such a range of heat press prices?
Heat presses, like most other equipment USCutter offers, are sold in a wide range of prices. Our heat press offerings are similarl to our vinyl cutters, in that, we offer VALUE heat presses and PROFESSIONAL heat presses.
Value heat presses are ideal for hobbyists and other entry level users. A fledgling sign business looking to add imprinted garments, etc to their lineup might start out with one of our value units. Heat presses in this price range are typically Chinese made, and have manual open/close functions.
A more sophisticated user with higher demands, (for example, a t shirt customization company printing all day every day) would be better suited for one of our higher end professional models, such as one made by Hotronix or Geo Knight. The price is typically higher on these, but these heat presses are engineered to stand up to production level operation and yield consistent results for a long period of time. Some of these models also feature time and effort saving features, such as auto-opening when the item has finished pressing. Some heat presses also have a table surface that allows you to set up the item to be imprinted while another one is being pressed at the same time. The warranty differs on the various press models as well: Value Chinese-made heat presses carry a 90 day warranty, while professional models typically carry at least a 2 year warranty.
Now let's take a closer look at some of the things that can be made with a heat press
Personalize Garment, Mugs, & More
Sublimation involves the use of a printer that has been specially equipped to print with sublimation ink. The image is printed IN REVERSE on to heat transfer paper. It is then placed onto the item that is to be sublimated, often with the use of heat-resistant tape. Then the item is placed into the heat press for a predetermined length of time. The ink will rapidly heat up and turn DIRECTLY into a gas from a solid ink form. This gas impregnates the fabric of the garment, adhering the color to the fabric. After the time is reached, the press is opened and the paper removed from the garment. Sublimation printing on tshirts has a vibrant printed look that can rival a much more expensive direct-to-garment printing system! USCutter offers not only sublimation-ready printers and heat presses, but also sublimation inks and heatpress blanks ready to be imprinted!
Imprinting of non-apparel items
Heat presses are also very commonly used to create personalized promotional items, such as coffee mugs and mousepads.  Personalized corporate items are also great for small business and event promotion.
Apparel Heat Transfer Vinyl
Heat transfer vinyl is a material designed to be used in a vinyl cutter. It contains a heat activated adhesive that will bond to fabric after being heated in a heat press. First the design is cut IN REVERSE on the vinyl cutter. The graphic then needs to be weeded. The vinyl that is not part of the finished design is pulled away from the backing material, leaving only the areas that are to be part of the graphic.
It is often a good idea to pre-heat the garment that will be imprinted. Usually 30 seconds or so in the heat press will be enough. The material is then placed face down, with the clear backing material over the top, onto the garment to be decorated. A Heat Press Teflon sheet is then placed over the material. This will allow heat to pass through the sheet and into the graphic, without damage to the garment.After the correct amount of time has passed, remove the garment from the press. The clear backing material can be removed, and the heat transfer material stays behind.
Heat transfer material is fantastic for short run customization applications, such as adding numbers to team jerseys, where it would not be cost effective to screen print. Heat transfer products are available in many different colors and styles, including metallics, glitter flake colors, and in an array of traditional colors and finishes.
Rhinestone Application
Rhinestone personalization is a rapidly growing segment of the customization industry. Rhinestones are commonly seen on dance costumes and on custom apparel. The process is simple. Using a vinyl cutter, a pattern is cut into a thicker cuttable material, such as flocked vinyl. USCutter's signature sign cutting software, Sure Cuts A Lot, has a feature that will allow vector images to be quickly converted into rhinestone templates. Heat-activated rhinestones are then poured over the surface of the template, and brushed into the holes. When the rhinestones have been placed and oriented correctly, a transfer tape is applied over the top surface. Using a bit of pressure, the rhinestones will adhere to the sticky side of the tape. The transfer tape is then lifted off of the template. The design is placed in the appropriate position on the garment, and pressed in the heat press. When the time has been reached, the press is opened and the transfer tape removed.
Adding a heat press to an existing sign shop business can increase your profits and expand your shop's capabilities.