Tag Archives:
blades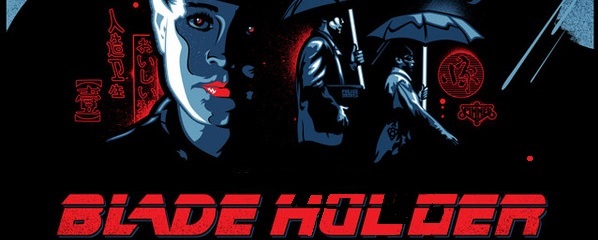 Name's Cutter. I'm a Blade Holder. It's my job to hold up a sharp blade to a piece of material and make something useful out of it.
I don't ask why. I'm just taking orders.
I have a variety of weapons at my disposal depending on what sort of material I'll be working with that day. First off, I have a skinny deep blade with a 60 degree angle (shaped like a stiletto). I use this angle of blade on my vinyl cutter when I want to cut thicker materials like flock or sandblast mask, or abrasive materials like reflective vinyl and Siser Glitter. The blade doesn't have a lot of surface area to provide resistance so it glides smoothly through the media. However, this means it wears out pretty quickly. It's also good for fine detail work. I like to do a good job, and make clean cuts, so I replace this blade at least twice a year.
Then there's my everyday blade. 45 degrees of sharp hard carbide steel. This is a shallower fatter blade so it wears longer with constant use. I use this on a majority of my cutting jobs, for indoor and outdoor vinyl graphics, and printable media.
A 30 degree blade is very shallow and flat, so it won't cut too deep, and works well for scoring as well. Recommended for heat transfer vinyl, and sheer ultra-thin materials like window tint, laminate, and paper.
The nice thing about being a Blade Holder is that I'm adjustable and interchangeable. If you like the job I'm doing on a particular material profile (my blade depth is set just right so I'm not cutting through the liner or leaving behind unweedable vinyl) you can just switch me out with a fellow Blade Holder (who specializes in a different material profile eg. different blade depth and cutting angle) whenever you're switching materials.
Installing and setting a blade on your new vinyl cutter is a crucial step for getting the most from your purchase. Here is a link to complete instructions for this process.
Certain Blade Holders are only compatible with certain machines, so refer to our website product pages when it's time for you to add an additional or replacement Blade Holder to your operations.
The most common blades we sell are Roland Compatible in the 45 and 60 degree angles. USCutter offers a 6 pack (45 degree) or a mix (45/60 degree) for $14.95! If you have a vinyl cutter from the Graphtec Corporation, there are a number of special configurations for specific cutting jobs, with specialized blade depths and widths, cutting angles, and blade holders. This will be of interest to those in the window tint and other special markets. These products are also available through USCutter.
If your vinyl cuts "dog ear" / push up around the cut lines, you are probably using too much blade. Go to a 60 degree for fine detail cuts and sharp corners. If you are getting incomplete cuts or ragged edges along the cut lines, it's probably time to change out your blade. Hopefully, it's not too late.